During spring and summertime, the Boboli gardens is one of the places that must absolutely be visited. Located across the Arno river, in the less turistic and more "real" part of Florence, these gardens extend directly behind the Pitti Palace. They were laid out for Eleonora di Toledo (the wife of Cosimo I dé Medici) one year after the Medici Family purchased the palace; with their perfect shapes and simmetry, the Boboli gardens represent the perfect example of the Renaissance garden.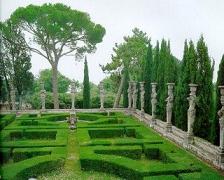 An elaborate irrigation system brings water from the arno river to the gardens (which lack  a natural source of water); whithin the many sculptures and artworks which you will be pleased to admire walking around, you can find an amphitheater, an egyptian obelisque (brought from the Villa Medici in Rome), the Fountain of Neptune, with the sculpture of Neptune by Stoldo Lorenzi.
The Boboli gardens can be included in the program of our guided visits of Florence or in the art history course offered by the Institute Galilei.